Lancelot's review of 5 swords
by Lancelot Chan
I had wanted to provide my European sword students an European longsword to train with during class for a long time. However, my eyes used to be set on nothing less than Angus Trim sword. That was because people around the world often misunderstand European swords as bulky, dull and crudely made objects. Thus I would not like to reinforce their false impression by providing low quality European sword as training tools. Unfortunately, I could not afford buying an Angus Trim sword for my students to train with either. Accidents like hitting the ground, hitting the test cutting stand or other obstacles happened before, thus I would not like to see a good, pricy sword getting damaged in the novice's hands. As a result, although against my consciousness, I only provided an economic China-made katana as their training tool regardless of my students' style preference. Recently I had become aware of the low-end European sword market and decided that it was time to test them out. After all, the grip of the katana was quite different from the one on European swords and the earlier my European style students could train with a proper European grip, the less difficult the adaptation would be. Since making a multi-sword purchase would help saving the shipping charge, I made a group purchase of 4 different models. Also, I had never taken photos with my new personal sword from Tinker properly, namely "No dust". Hence I would take this chance to write a review for the 5 swords, shown below one after one.
Tinker longsword "No Dust"
Overall length

48"


Blade length

36"


Guard width

11.5"


Blade base thickness

6.8mm


Blade shaft thickness

5.1mm


Blade tip thickness

2.2mm


Weight

3 lbs 10 oz


Balance point 3.5" down the guard


Edge hardness

60 HRC ~ 55 HRC


Spine hardness

45 HRC
I had been practicing with this sword for about 10 months as the time of writing. Feelings had changed along the time as I had learned more and adapted it better. I ordered it from Tinker after I had familiarized myself with Albion Brescia Spadona. As a complement to the spadona, which was a light, fast and sharp dueling longsword for unarmored combat, No Dust was designed to take all kind of unarmored punishment it could ever face in mind. So that meant it could be fighting against heavier weapons like polearms. Set into 16th century style, side rings would be popular and an important feature for protecting the unarmored hands. They would make certain German master strikes a lot safer to execute. I had never tried fish-tailed pommel so the idea was implemented as well. I enjoyed Tinker's engraving and etching on his exhibition sword in Macau so I asked him to do some engraving on my sword as well. The end result was a beautiful, stout longsword with a complex-hilt that excelled in both cut and thrust, offense and defense, speed and power.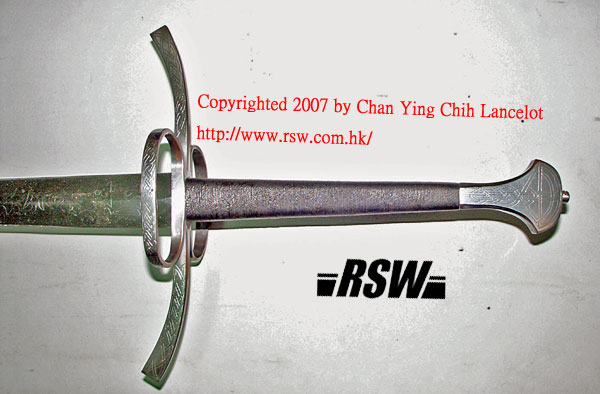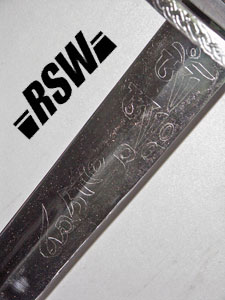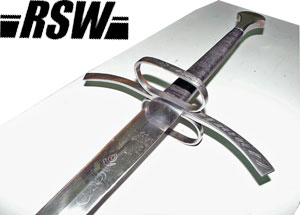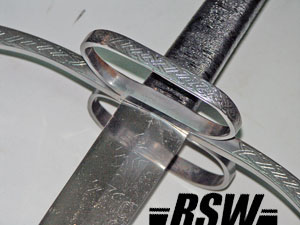 At first I could not adapt to the fish-tail pommel, The corners kept digging into my hands. It took a long time for me to figure out that I had gripped the sword in an less-than-optimal way. Old habit was not always the best habit, obviously. With the best gripping method, the curvature of the fish-tail pommel would fit my left palm's underside perfectly. The sword would change direction easier as well. The grip was constructed with lacquered cord over wooden slats. To my ungloved hands it was quite slippery. I preferred leather over cord for better traction. The size of the grip was quite slim as well, which had become another factor for me to wear gloves when wielding it. With the thinnest gloves on though, the cord provided good traction and the grip was of right size.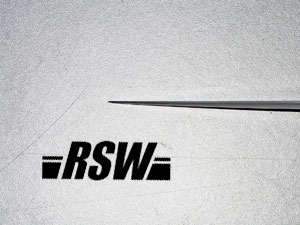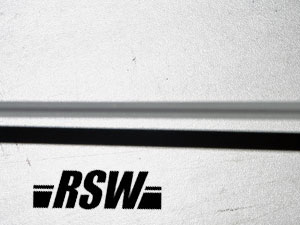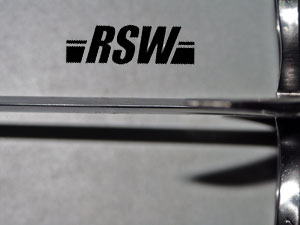 The sword showed a high degree of distal taper with sophisticated progress along the blade. It ranged from 6.8mm at base, concave tapering quickly to 5.1mm and remained more or less the same till mid-blade, then started convex tapering at around the center of percussion. The relatively thick mid-blade area produced a stiff blade. The thin and light tip at 2.2mm and the thickest base resulted in a low polar moment that the mass was concentrated around the hilt, rendering it quick to accelerate and to stop. The stiffness of the blade allowed the thrusts, the cuts that involved quick change in direction like Zwerchau and the unterhau (cuts from below, against the gravity) worked better than the thin-bladed, yet super sharp spadona. The flex of the latter seemed to have caused these attacks to be not as effective as the stiff-bladed "No Dust".
The edges were not quite sharp when it first arrived. It had difficulties in cutting water-filled bottles open. However, it would take heavier targets without problems. I took some time to sharpen the edges to the degree that it could cut the bottles easily. Then I further thinned down the edge bevel from the tip to center of percussion portion so that the main cutting area could perform some fancier cuts like the spadona could. It would never be as sharp as the spadona due to the thicker blade geometry, but it did not have to be. After all, its design was to handle the heavy duty side of the unarmored combat. The edge hardness was over 55 HRC and below 60 HRC, which should be around 58 HRC as Tinker reported. The spine was at around 45 HRC. The wide spectrum of hardness took place on a pointy blade with the base width less than 1.75 inches, showing the high proficiency of Tinker in heat treatment.
In conclusion, I am extremely satisfied with this longsword from Tinker.
Windlass 15th century longsword, a.k.a. the student sword
Overall length

45.25"


Blade length

35"


Guard width

9"


Blade base thickness

4.5mm


Blade shaft thickness

4.5mm


Blade tip thickness

1.9mm


Weight

3 lbs 2 oz


Balance point 5" down the guard


Edge hardness

55 HRC ~ 50 HRC


Spine hardness

50 HRC
I picked Windlass as the brand to present to my students because of its relatively high historical accuracy in appearance and handling characteristics in the low-end market. In addition, I picked the 15th century longsword as my students' training tools due to its average length, weight and balance. According to my pre-purchase research, it would be a good candidate to introduce the generic feel of European longsword to the public. Its resemblances with my personal longsword "No Dust" also helped, of course. In fact, one of my students purchased it as his personal longsword.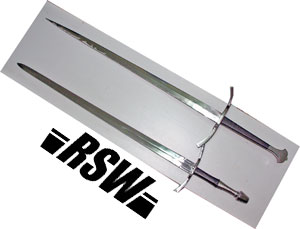 The sword arrived and when I took it out from the box, it looked like a small brother of "No Dust".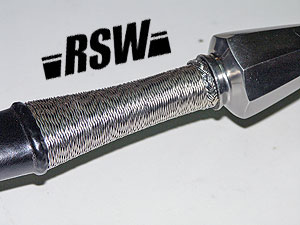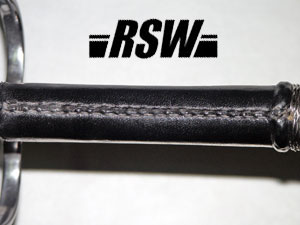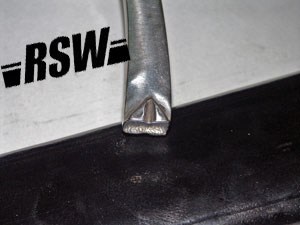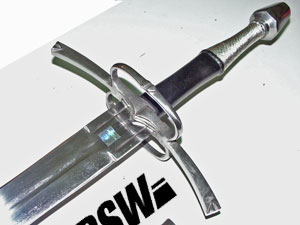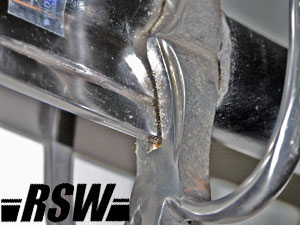 The fit and finish was better than I had expected. The gap between the blade and the guard was acceptable to me. The blade engraving and the decorations were well done for its price. It was relatively blurred on the engraving and on the fullers compare to the high-end swords, but still not bad in itself. The stitching on the leather wrapping was fine and the wire grip was nice as well. The pommel was friendly to the ungloved hand and it was a bonus to my students, because some of them preferred to stay bare-handed. The size of the grip was larger than "No Dust", which allowed me to wield the sword bare-handed. The rings were smaller than "No Dust" and were about the same with Arms and Armors' German Bastard Sword. While the scabbard was loose, it was more than functional enough and was good looking. So I had no complain about it.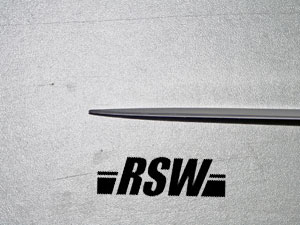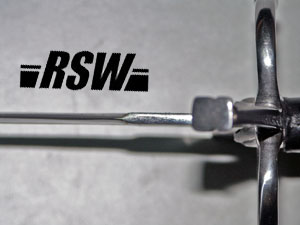 The sword blade was thin at base, being 4.5mm only, with no distal taper up to the center of percussion. Then it thinned out in convex model toward the tip to 1.9mm. It resulted in a wide, thin and flexible blade for a sword of its size. Due to the less sophisticated distal taper model, it was more flexible than the equally thin-bladed Brescia spadona. In addition, it was also slower than No Dust, which was a longer, heavier and stouter sword, due to the higher polar moment. However, for its price I found this totally acceptable. It would also train my students better so that they would have a better tolerance for different kind of swords. Thus, it was indeed a good introductory for my students that it gave an impression of how the average, generic European longsword felt like. Of course I would always remind them that there were swords that were longer, faster, and fought better, like "No Dust" and my spadona were. Besides, the blade was of good hardness as well, spotting between 55 HRC to 50 HRC at the edge, and 50 HRC at the spine.
I ordered the sword sharpened but I was expecting that it would need my further hand work to make it sharp enough to cut through water-filled plastic bottles. After all, it was machine-sharpened with an obvious secondary bevel. I was proven wrong upon the first trial. And in the second trial, I even made a perfect cut!
I was very happy with this purchase. In my opinion, many of my students would have no need for a better longsword for a while.
My student Tim's personal sword, Windlass longsword
Overall length

47.75"


Blade length

37.75"


Guard width

9.75"


Blade base thickness

4.5mm


Blade shaft thickness

4.5mm


Blade tip thickness

1.9mm


Weight

3 lbs 1 oz


Balance point 6.25" down the guard


Edge hardness

55 HRC ~ 50 HRC


Spine hardness

50 HRC
This sword was another candidate for my student sword. I thought it would represent the earlier longsword due to the lack of side rings. It was also of the typical longsword length at almost 48 inches overall and a bit over 36 inches blade length. However, I preferred to show a sword with balance point at around 4 to 5 inches down the guard, instead of 6 inches and more. Thus despite the common view that this sword spotted a stiff blade, which was uncommon among Windlass's larger swords, I gave up using this as the student sword. Good for me, my student liked its look enough to purchase it, so I could do a compare with the 15th century longsword and see if my decision was wise or not.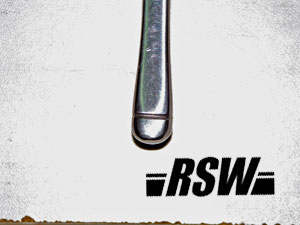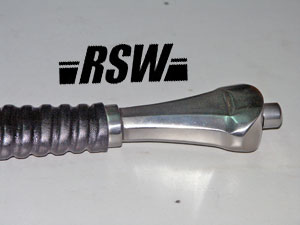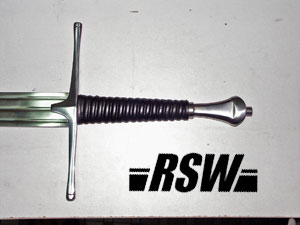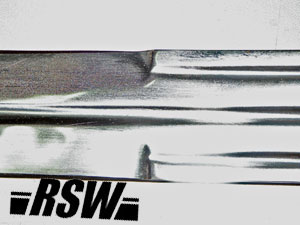 When I took it out of the box, the first thing that came to my mind was "flat". The sword was quite wide and thin in all its features, including the blade, the guard, the grip and the pommel. The blade's lines were similar to the 15th century longsword, which was a bit blurred. The grip, once again, was wrapped in leather and wide enough for my bare hands to wield without the need of wearing gloves. Due to the rounded off corners, I could also grip the pommel comfortably. It was a user friendly hilt.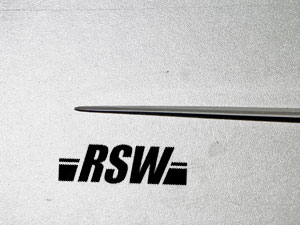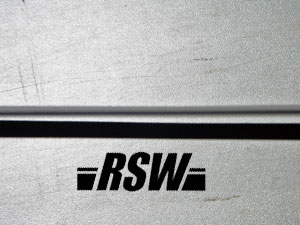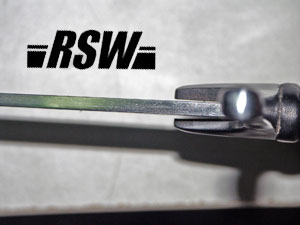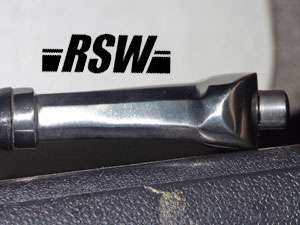 One may noticed that the distal taper model between the longsword and the 15th century longsword was exactly the same. I suspected that the company only have 1 model for all of their longswords. However, since this sword was even longer than the 15th century longsword, by assumption the problems that plagued the 15th century longsword would only be enlarged in this piece. One did not have to be worrying though, for the long ricasso had helped to stiffen up the blade and solved the problem. Was it as stiff as the spadona? No. Was it as fast as the 15th century longsword? Again, no, but it had a longer reach as trade off. Moreover, just like those swords, this piece also featured a nice "Ding" sound upon the impact during cutting. The hardness profile and the sharpness were the same with the 15th century longsword.
Once again, the sword was sharp enough to cut water-filled plastic bottles out of the box. I performed one less-than-straight-forward oberhau to see if its flexibility would do it no good during the change of direction. It passed the test with good result.
Thus, I was happy with this sword with its price.
My friend Maurya's personal sword, Windlass Persia Shamshir
Overall length

36"


Blade length

30.5"


Guard width

9"


Blade base thickness

4.5mm


Blade shaft thickness

4.5mm


Blade tip thickness

1.8mm


Weight

1 lb 10 oz


Balance point 9.25" down the guard


Edge hardness

55 HRC ~ 50 HRC


Spine hardness

50 HRC
Now we came to something different. Windlass, being a company in India with Indian craftsmen working on their swords, might have made the best Shamshir out there in the mass producing market. After all, it was not too different from their national sword Tulwar and the craftsmen must be well trained to do that. Historically speaking, Persia and India shared the same ancestors. Many of their myths were from the same roots. Below I would quote the sword owner Maurya's own words for the sword's review.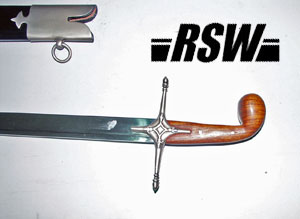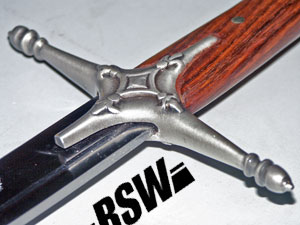 "The slim hilt featured a lion-tail shaped canted pommel, allowing a firm grip with relaxed fingers. It helped to retain the sword in executing successive cuts and upon the impact of hitting the target. Islam style quillion was light yet functional in defense. However, it might allow dirts to built up inside the gap. The scabbard's simple decoration style was of Persia style. The track was smooth inside the sheath, so the drawing and the sheathing motions could be done fluidly. The blade was light with a forward balance. It was easy to perform continuous attacks. There was no vibration upon hitting the target. The blade thickness did not change much along the length, giving a firm thrusting ability." - Maurya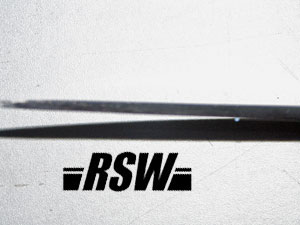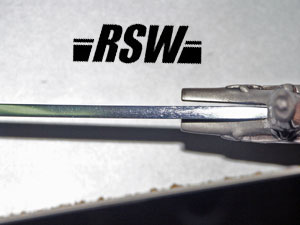 According to my research on antiques from various background, swords that featured a light or no pommel at all, would often have their balance set at approximately 40% of their total length. Examples for this setup could be found among many Chinese swords, Japanese swords, Indian swords, Middle East swords and etc. European medieval swords were exceptions from this setup due to the existence of a substantial pommel but the earlier ones like Roman swords that featured a wooden pommel would follow the rule as well. This shamshir fit into this balance proportion with the balance point right at the 40% of its total length. These swords were usually quite light in itself, but the relatively forward balance would produce most of their striking power. They would be fast swords to move around that were capable of delivering powerful strikes.
This sword was the best among the 4 low-end swords, for it delivered what a historical shamshir would handle and fight like. After all, Indian-made Persia / Indian swords would not be too far off the mark.
My friend Wraith's personal sword, Paul Chen / Hanwei Mortuary Hilt
Overall length

38"


Blade length

33"


Guard width

4.5"


Blade base thickness

7mm


Blade shaft thickness

4.8mm


Blade tip thickness

1.8mm


Weight

2 lbs 1 oz


Balance point 4" down the guard


Edge hardness

55 HRC ~ 50 HRC


Spine hardness

55 HRC ~ 50 HRC
Unlike the previous models, this sword was not from India-based Windlass but China-based Paul Chen Hanwei.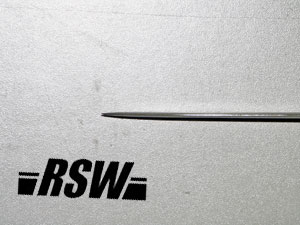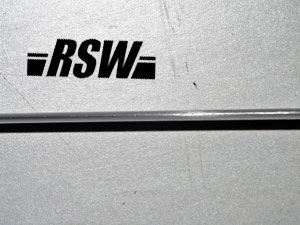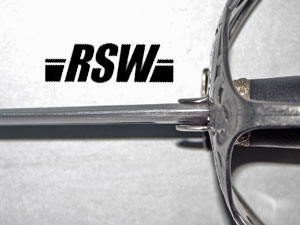 In the past, it was my experience that Chinese did not know how to make European swords due to the lack of understanding in European distal taper models. The end result was usually an overly heavy sword due to the mistake of applying the distal taper models from Chinese Jian and Japanese Katana to European swords. The thickness variance of the mentioned models would be relatively little compare to European swords. However, this sword had changed my view. One might notice that the distal taper on this sword was quite extreme, ranging from 7mm to 1.8mm. The sword was light and extremely quick in motion. Its cutting ability was not stellar due to the lack of mass and blade width around the tip, but still capable of cutting open the harder water-filled plastic bottles. It was unforgiving to cutting techniques but would cut to the bone, nevertheless. Its thrusting ability was another story, though. It was fast in point control and the penetration was good. Despite the thin blade, it was not as flexible as I had expected. In fact, it was about as stiff as the the shamshir, a lot stiffer than the Windlass longswords. The blade spotted a uniform hardness between the edges and the spine, at somewhere between 55 HRC and 50 HRC. The edges arrived sharp, but not as sharp as the Windlass swords. The blade had a lenticular blade geometry.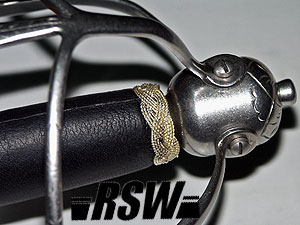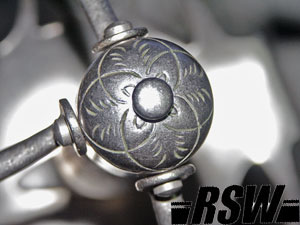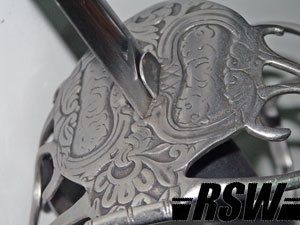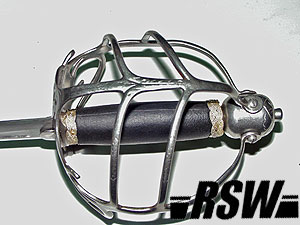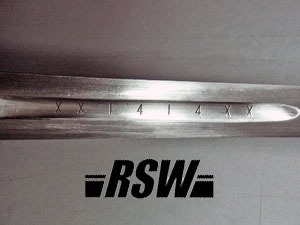 Instead of a bright and mirror-like polish as Windlass did, Hanwei showed a sense of antiquity in the lines and decorations. The blade was finished in satin. The scratches were coarser than Albion's grey scotch pad finish, though. The lines and engraving were executed in a cleaner manner than those on Windlass's swords.
Overall, I was impressed with this sword. It seemed the low-end market was filled with swords attractive for me and my friends to explore.