Lancelot's review on Howard's Angus Trim Lady Carmen
by Lancelot Chan
Howard's Realistic Sparring Weapons was made after Angus Trim's Lady Carmen. After having worked for years, he accumulated enough funding to buy the real sword for practice. The sword was shipped to my location so I spent some time to take photo and test the sword before he came to pick it up. The followings are my comments.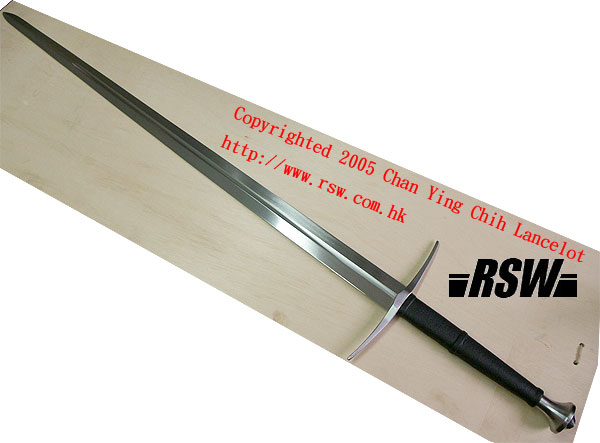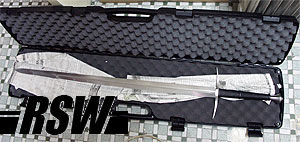 The box for shipping was a plastic rifle case that was more elegant and lighter than the one I used to have. However, the size was too fit so there was not much room for buffer during the shipping. The tip of the sword contacted the rim of the box many times and became slightly blunt, which was not a big deal anyway.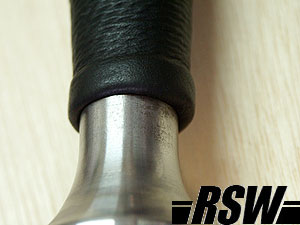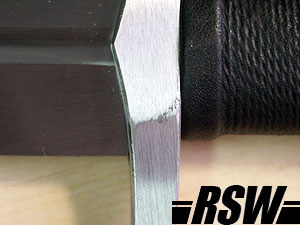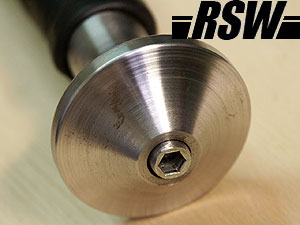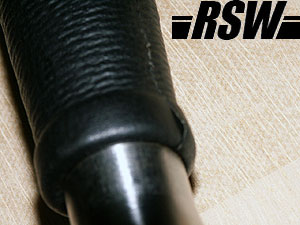 Another problem I spotted when opening the box was the rust on the fittings. It was not too bad for I had seen worse not long ago. I took the sword in hands and the balance point of the sword was further away from the guard than my own swords. I suspect it was made this way by Angus Trim to maximize its cutting power. The hilt shape and leather wrapping were very comfortable and I did not have to spend time to adapt to it. However, the leather wrapping's edge was loose and could unwrap itself along time so it requires maintenance.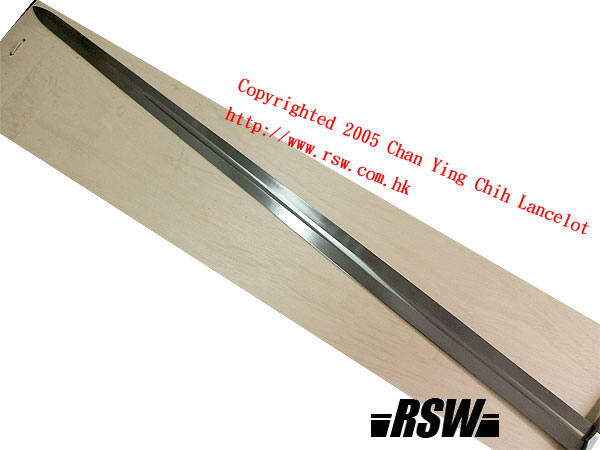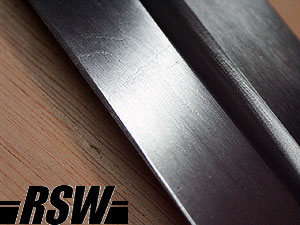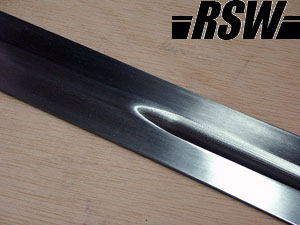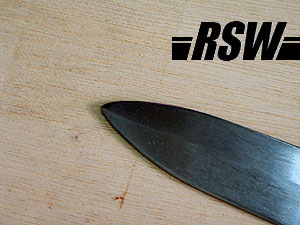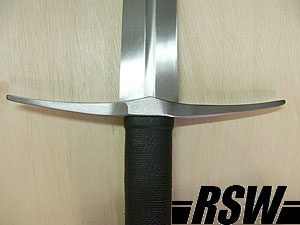 The edges of the sword were sharpened for flesh and bone target, so Angus Trim made a small secondary bevel. It was not very sharp and there were light reflections on the edge lines. Yet, indeed it was good enough for flesh and bone, plus it would endure longer than the very sharp sword. I took the sword to cut 2 water filled bottles and the effect was not spectacular with the cuts that worked well with my own 2 swords. It could be the sharpness difference. Maybe due to the hotter weather of Hong Kong that changed the volume of the metal parts, the sword hilt became loose after the cutting. Fortunately, with a hexagonal key I quickly tightened the hilt again. It was easy for the user to fix the sword himself/herself. Besides, the sword also made a loud whistle whenever the blade alignment was correct. So it was a good sword to practice cutting with.
The sword was fine for its price. Howard liked the sword very much. I was happy to see a buyer being satisfied with his first buy and glad I did a good service for him in the purchasing.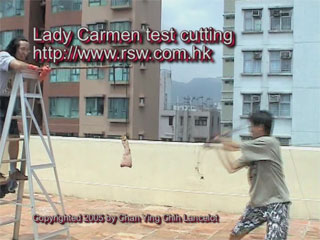 Click on the picture to download the test cutting video.