Chinese Butterfly Swords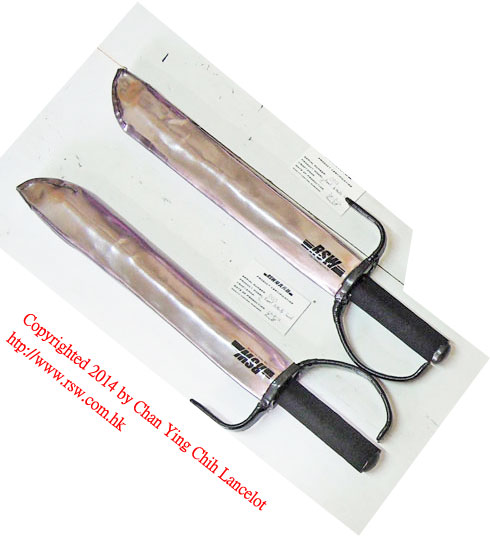 Price: 820 HKD / 114.8 USD per sword (with flexible tip)
1550 HKD / 217 USD per pair
Sold: 52
The Realistic Sparring Weapons version of Chinese Butterfly Swords are based on real swords. They're short and nimble, good for narrow environment. In addition, the knuckle bar that will protect the hand and the hook behind the blade that will trap the opponent's weapon make it an ideal weapon for self-defense. Some of the styles of Chinese martial arts favors this kind of swords.
Specifications (slight variance occurs due to the nature of handmade)
Overall Length: 20.25"
Blade Length: 15"
Weight: 1 lbs 2 oz
Center of gravity: 1.5" from the guard
We'll repair the battle damage of your blade for 415 HKD. If you want the guard renewed also, it would be 415 HKD. The repair service excludes broken core.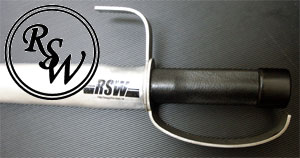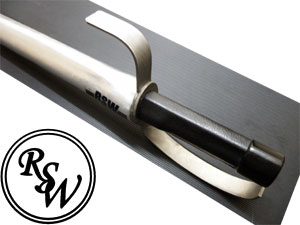 The hook and the knuckle bar that formed the guard.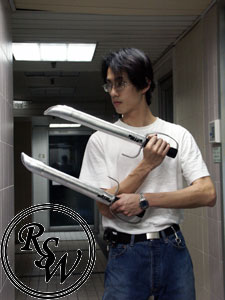 Max and the twin swords.

The guard will be padded with foam for free by default. Shown below is an example of foam padding: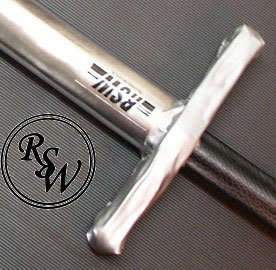 Or padded with rubber with the cost 20HKD / 2.64 USD. It is more attractive and durable than the foam padding. Shown below is the examples of rubber padding.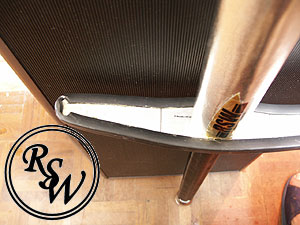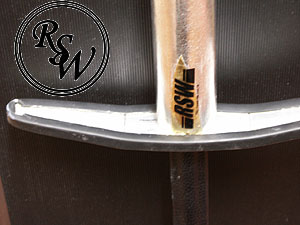 Beginner Grade
Overall Length: 20.25"
Blade Length: 15"
Price: 166 HKD / 23.24 USD
| | | | | | | | | | |
| --- | --- | --- | --- | --- | --- | --- | --- | --- | --- |
| | Real Weapon Shape | Real Weapon Size | Real Weapon Weight | Real Weapon Balance | Full Contact Full Body Targeting Safety* | Historical Accurate Techniques** | Endurance > 100 duels* | Blade with Discernible Edge(s) and Flat | Non-Cylindrical Grip |
| master grade | | | | | | | | | |
| Beginner Grade | | | | | | | | | |
* Measured under the circumstance where only helmets with face mask were worn, sparring with full speed.
** Includes but not limited to parry, block, slide, bind and wind.
For international order, we accept payment through PayPal. Please email for details.
Disclaimer: By placing an order, the buyer represents that the products ordered will be used in a lawful manner. Lancelot Chan Ying Chih will not be held liable for the misuse of any product purchased from us or any of our distributors & dealers. You agree to indemnify and hold harmless either the company, its owners, investors, board members, and staff against any and all claims, demands, actions, or proceedings, resulting in injury, death or damages, losses, and/or liabilities, costs and expenses, including attorney fees, relating to or arising out of any claim asserted by you against the aforementioned companies.